One-North Eden, the first residential launch in the one-north hub, was an instant success! On the launch weekend, a total of 140 out of 165 units were snapped up, with the one-bedroom plus study and two-bedroom units proving to be the most popular and quickly sold out by 10 am on the first day.
Prices ranged from $1800 to $2600 per square foot, the demand was strong and steady across all unit types. It's no surprise that this launch has been so successful – 85% of units were sold!
One-North Eden condo in Buona Vista 85% sold on launch weekend

THE BUSINESS TIMES
Introduction to One-North Eden
Are you looking for a residential unit in the tech and innovation hub of Singapore? If so, then you should know about One-North Eden. This 99-year leasehold mixed-use development is located in Queenstown, District 5, and is jointly developed by Hong Leong Holdings and Mitsui.
It occupies an area of 5,778 sqm and consists of 165 units with commercial spaces on the first floor. It's a great option for those looking to invest in the area, as it offers a variety of amenities and facilities with excellent connectivity to nearby attractions.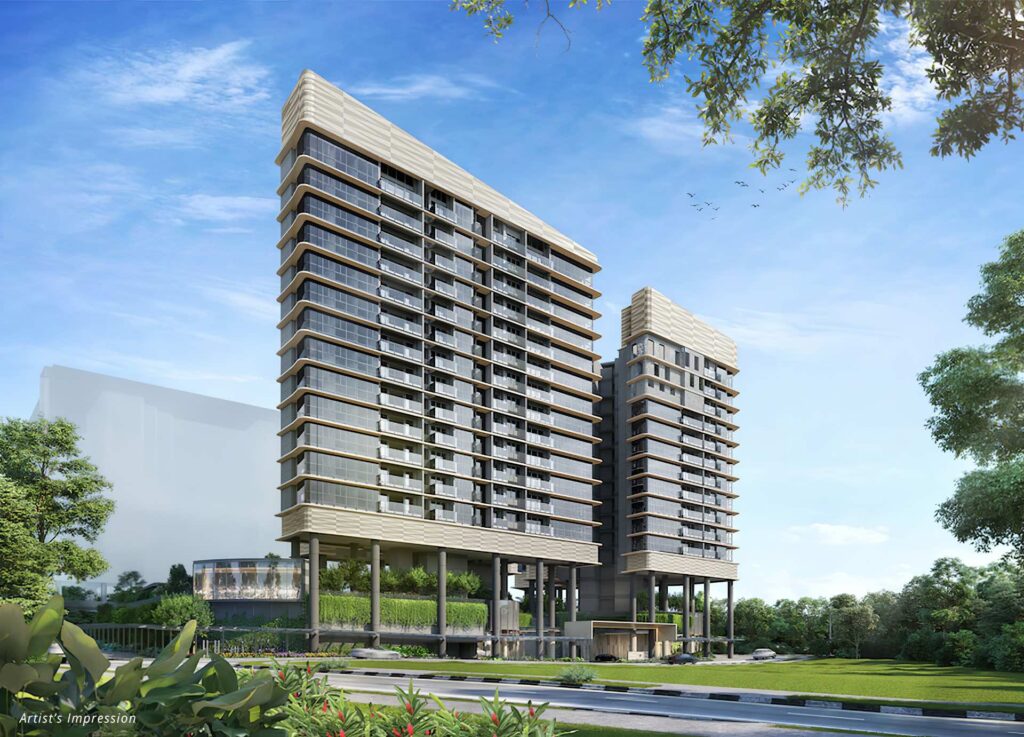 Master Planned by Zaha Hadid Architects
One-North Eden was master planned by the renowned Zaha Hadid Architects, a British-Iraqi architect known for her world-renowned iconic designs. It was developed by JTC Corporation, one of Singapore's leading corporate real estate firms.
With such a strong team behind it, One-North Eden stands out amongst the rest as a vibrant research and business hub that provides a rich environment for research, innovation and enterprise. The late Zaha Hadid had a vision of creating an open network of spaces and a gateless community, which is evident in her design of One-North Eden.
The 165 units of 1- to 4-bedroom apartments are designed to provide ultimate comfort and convenience.
Units Available at One-North Eden
At One-North Eden, you can choose from a range of 1, 2, and 3 bedroom units that are designed to provide maximum comfort and convenience. These units come with quality finishes and fittings, providing the perfect home for young professionals or growing families.
With an estimated 165 residential units, One-North Eden offers plenty of options for potential buyers. So, whether you are looking to invest in property or find a new home for yourself and your family, this is the perfect choice for you.
Amenities and Facilities
At One-North Eden, residents can indulge in luxurious amenities such as a fully-equipped clubhouse, children's playground, function room with private lounge, lap pool, BBQ corners, and a 50m lap pool. There is also a cantilever gym for your convenience.
Besides that, the car park provides the necessary convenience when you are too busy to venture out.
Pool Facing Units at One-North Eden
One-North Eden is a luxurious residential development that offers a wide range of units to choose from. Apart from its 1- to 4-Bedroom units, the development also has a selection of pool-facing units.
These units offer stunning views of the 50m by 10m lap pool, which is more than enough for the 165 units. Enjoying a dip in the pool or simply lounging on your balcony to take in the view is a great way to spend your leisure time at One-North Eden.
Location and Connectivity
If you're looking for a home that is easily accessible and connected to the rest of Singapore, then One-North Eden should be your first choice.
This 99-year leasehold development is located at the junction of Slim Barracks Rise and One-North Gateway, next to One-North Residences.
It is accessible by MRT stations including Buona Vista CC22, and One-North MRT station which is just a short 300m walk away.
The development is also just 15 minutes drive to the city and lies within the one-north precinct, a 200-hectare research, and business park flanked by Portsdown Road and Ayer Rajah Expressway, with North Buona Vista.
Nearby Attractions
At One-North Eden, you will be spoilt for choice when it comes to nearby attractions. Just a minute away is the Science Centre Singapore, the largest science centre in Southeast Asia.
It has over 850 exhibits across its three galleries, and is a great place to explore different scientific concepts. Biopolis is a research and development hub located close by as well.
Fusionopolis is a science and technology park that houses various research institutes, laboratories and other innovation-related facilities. JTC LaunchPad @ one-north is an incubator for startups and their premises are designed to foster collaboration among its tenants.
Last but not least, The Star Vista is a shopping mall with plenty of retail therapy options, dining establishments, and entertainment venues.
Science Centre Singapore
Just a stone's throw away from one-north Eden is the Science Centre Singapore, an iconic destination for families and adults alike. With over 850 exhibits, it is the largest science centre in Southeast Asia.
The centre also features a slew of educational activities, such as robotics workshops and immersive educational experiences.
It also houses two permanent attractions – the Snow City and the Omni-Theatre. With its wide range of attractions, you can be sure to have an educational and fun time here with your family.
Biopolis
If you're looking for even more to do, then Biopolis is the place to be. This research and development hub offers a wide variety of activities, ranging from conferences and workshops to exhibitions and performances.
Biopolis fosters a sense of community and collaboration among researchers, entrepreneurs, and students. It is also home to the Genome Institute of Singapore, which focuses on the sequencing, analysis, and application of genomes.
Fusionopolis
If you're looking for a more modern and vibrant atmosphere, then Fusionopolis is the place to be. Located within the one-north R&D hub, this area is home to various innovative companies and a bustling business scene.
Within the vicinity, you can find several restaurants, cafes, and shopping outlets. Fusionopolis is also home to the JTC LaunchPad @ one-north which is an incubator for tech start-ups.
Whether you're looking for a place to work or just to hang out, Fusionopolis has something for everyone.
JTC LaunchPad @ one-north
If you're a tech enthusiast, then JTC LaunchPad @ one-north is the perfect place for you. Located adjacent to One-North Eden, LaunchPad is a one-stop facility for start-ups and small and medium enterprises.
It provides an optimum environment for the growth and development of tech companies and offers a range of services to support their operations. With a comprehensive range of facilities, JTC LaunchPad @ one-north offers a stimulating environment for entrepreneurs to develop new ideas and build their businesses.
The Star Vista
For those looking for entertainment, The Star Vista is the perfect place to be. Located just a short walk from One-North Eden, this futuristic-looking shopping mall beside the Buona Vista MRT station houses a variety of restaurants, eateries, and even a cinema.
It also has a Cold Storage supermarket where you can get all your daily necessities. With 31 reviews, this popular attraction is definitely worth checking out.
Sales Performance of One-North Eden
The sales performance of One-North Eden has been impressive since its completion in 2024. The property located at 7 One-North Gateway, near Buona Vista MRT Station, has attracted buyers with its locational attributes and modern design.
The property has seen strong sales and rental demand since its launch.
Why Invest in One-North Eden?
Investors looking to buy at One-North Eden can be sure that they are investing in a prime location with excellent potential for long-term capital appreciation.
As one of the most advanced and prestigious science and technology hubs in Singapore, One-North has been an attractive location for tech companies and entrepreneurs for some time.
With the addition of One-North Eden to the area, this trend is likely to continue, making this an ideal investment opportunity. In addition, the facilities and amenities available at One-North Eden make it an attractive prospect for tenants and buyers alike.
Conclusion
In conclusion, One-North Eden is a great investment opportunity for those who wish to enjoy a work-life balance in one of the most vibrant and innovative hubs in Singapore.
With an iconic design by Zaha Hadid Architects, top-notch amenities, and easy access to a range of attractions, One-North Eden provides an ideal living experience for young professionals and families alike.
Moreover, with its attractive pricing and excellent track record of sales performance, it is no wonder that One-North Eden is one of the most sought-after properties in Singapore.